1. Chinese market situation in December
In December, the Chinese MEK market fell broadly. The demand side continues to be weak, the factory shipments are under great pressure, and the quotations are weakly lowered, driving the market focus to decline.
As of Dec 22, the profit of the MEK plant was -140 yuan/ton, down 50% from the previous month.
As of Dec 22, the average operating rate of MEK enterprises was 59.5%, It's flat from the previous month.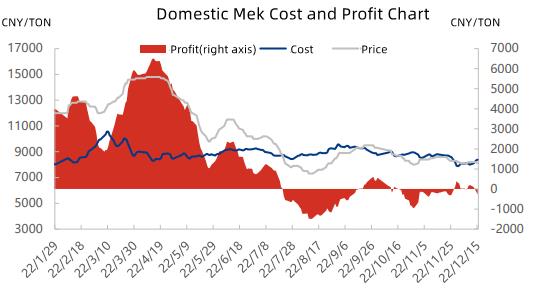 2. Market Forecast in Dec 23-29
Supply forecast: The spot supply in the venue is abundant.
Demand forecast:  Chinese demand is sluggish, and export support is general, wait and see the follow-up situation of actual orders.
In general,  The industry is not optimistic about the market outlook, and the enthusiasm for trading is not high. It is expected that the price of Methyl Ethyl Ketone will continue to fluctuate and decline next week, and the decline will be limited due to the support of costs. Pay attention to the main factory trading trends and market news guidance.